Alaska Masks!



Masks are 2-ply with a nose wire and soft elastic ear loops like you see on disposable blue medical masks. The masks are made in Alaska with non-medical grade materials. Each mask is individually packaged in a cellophane envelope and comes with washing instructions.

Masks are $10 each, if you would like adjustable ear loops, they are an additional $1 per mask. To order, you can contact me at akq@akquiltworks.com, or by text or voice at (907) 230-1943. You can send me either the fabric name or a copy of the photo indicating which mask you would like. If you decide to purchase, I will need your shipping and email address. I will send you an invoice by email which you can pay electronically by debit or credit card. All mask sales are final.

Below are photos of some of the fabrics I use to make masks shown with the name of the fabric. When the animals or other elements of a fabric are too large to fit on one mask, I will cut the prints to highlight a particular image, such as the bear, the walrus or the moose, etc. If you want a particular animal highlighted, please let me know in advance, as not all animals on a fabric will fit onto one mask. Below please find a numbered photo with the fabrics labeled. A list of the fabrics will follow the photo.
Hope to hear from you!
Stay Safe,
Marie

PHOTO 1

Fabric listed from top to bottom:

Left Column: Moose Red, Moose Green, Mosquito Blue, Mosquito Green, Mosquito Gray, Husky Puppies

Center Column: Wildlife, Tossed Bear-Moose-Elk, Wolf

Right Column: Salmon, Alaska Map, Husky


PHOTO 2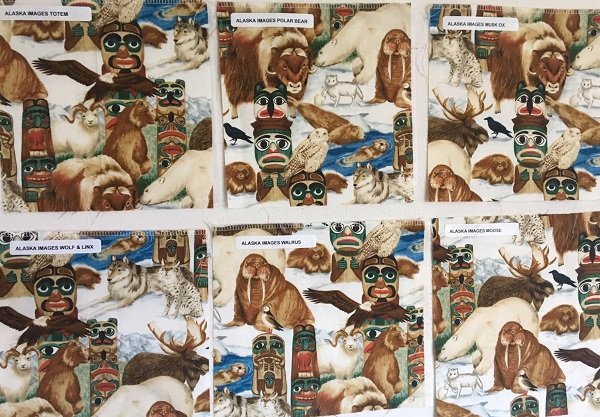 Fabric listed from top to bottom:

Left Column: Totem Pole, Wolf & Lynx

Center Column: Polar Bear, Walrus


Right Column: Musk Ox, Moose


PHOTO 3

Fabric listed from top to bottom:

Left Column: Dream Catchers, Totems, Tossed Game, Ice Floes, Large Game

Center Column: Forget-me-not Black, Forget-me-not Green, Forget-me-not Small, Propellers Cream, Propellers Blue

Right Column: Fireweed Black, Fireweed Light Blue, Fireweed Green, Fireweeds Cream, Large Fireweed